Technical Fabrics Manufacturing

For all sectoral applications span>
Technical Fabrics Manufacturing

For all sectoral applications span>
Technical Fabrics Manufacturing

For all sectoral applications span>
Technical Fabrics Manufacturing
Technical Fabrics Manufacturing
We are manufacturers of coated technical fabrics for all types of sectorial applications that we commercialize and distribute worldwide.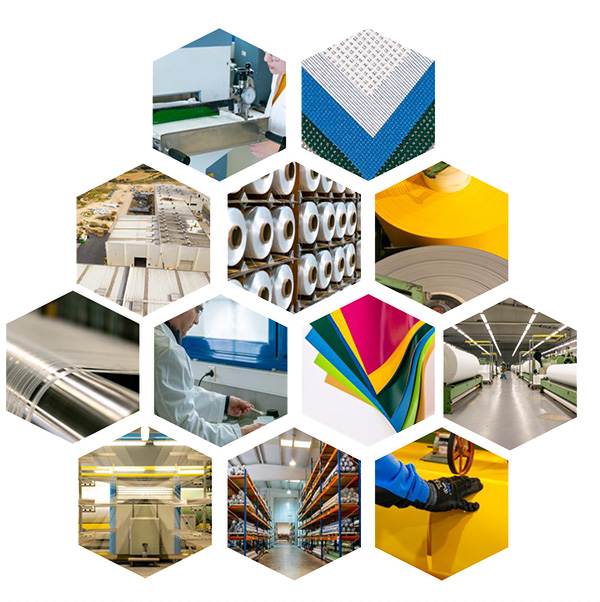 WHAT DO WE DO
We manufacture high quality technical fabrics, we market and distribute them all over the world
OUR PROCESSES
are, URID, TISAJE, COATING, LACQUERING, INSPECTION, LABELING, STORAGE AND DISTRIBUTION.
OUR CLIENTS
they are manufacturers of textile structures, architects, manufacturers of protections for agriculture, industry, the nautical sector, solar protection, environmental and transport. We are also official suppliers of the Ministry of Defense.
Our mission is to adapt new textile technologies to the current world, improving safety, aesthetic, acoustic and environmental comfort. Our values, quality, honesty and customer service.
Since 1889 manufacturing coated technical fabrics for all types of applications and specialized in the containment of biogas, tensile structures, thermal protection, containment barriers, transport, signage, tarpaulins and all kinds of structures ....
Our technical fabrics by sectoral applications

Asphalt cover
Basic application
Flat canvas
Application for trucks and large vehicles
Security and protection systems
Applications for trucks and large vehicles
Truck cover
Applications for trucks and trailers
Truck roof
Application for trucks and trailers
Train cover
Applications for trucks and trailers
Side curtain of the car
Applications for trucks and trailers
Technical architecture
Materials for technical architecture
Circuses
Materials for circuses
Stadiums
Materials for stadiums
Jaimas
Materiales para Jaimas
Soundproofing
Soundproofing Materials
Carp roof
Roofing materials for tents
Carp wall
Specialized materials
Pergola
Specialized materials
Flexitancs
Flexible bag that is installed inside a standard container
Flexible tanks
Materials for flexible tanks
Greenhouses
Materials for greenhouses
Separators
Materials for separators
Trampoline
Trampoline materials
Biogas
Materials for Biogas
Reservoir
Reservoir Materials
Netting
Materials for Netting
Protective networks
Materials for protective nets
Ventilation ducts
Materials for ventilation ducts
Netting
Materials for Netting
ADB tanks for food
Materials for ADB tanks for food
Food canvas
Materials for food canvas
Clean rooms
Materials for Clean rooms
Flexible doors
Materials for flexible doors
Flexible doors
Materials for flexible doors
Protectors
Materials for Protectors
Flame retardant textile
Materials for flame retardant textile
Antistatic
Materials for Antistatic
Ventilation ducts
Materials for ventilation ducts
Oil boom
Materiales para Oil boom
Covers for boats
Materials for boat covers
Lifeguard
Materials for Lifeguards
Protection of marine spills
Materials for protection of marine spills
Maritime containment barriers
Materials for maritime containment barriers
Maritime signaling
Materials for maritime signaling
Oil-boom
Materiales para Oil-boom
Military stores
Materials for military stores
Camouflage networks
Materials for Camouflage Networks
carrier bag
Materials carrier bag
Hojarasca
Materials Hojarasca
Military textile
Military Textile Materials
Mattresses
Materials for mats
Elastic beds
Materials for trampolines
Anti-slip
Anti-slip materials
Protectors
Materials for Protectors
Cushions
Cushioning Materials
Bouncy castles
Materials for inflatable castles
Children's mats
Materials for Children's mats
Pools and covers
Swimming Pool Materials
Security barriers
Materials for Security Barriers
Awnings
Materials for Awnings
Covers
Materials for Covers
Nuestros tejidos mostrados en los diferentes
aplicativos, nuestra mejor carta de presentación